Every year I like to compile a list of some interior designs that I see becoming trendy. Some years, the design world changes drastically, while other years I see trends linger from one year into the other.
We are very familiar with design trends because we work with numerous amazing builders and clients on a daily basis.  National also designs and pick out all the finishes for our construction company and we are currently building our dream home. So it is extremely important for us to know what the current trends are.
Lately, we're seeing a phase out of traditional farmhouse décor. Its gravitating more towards chic farmhouse paired with modern elements to create a comfy home vibe, but with a modern twist. We've always felt the farmhouse design was a bit gimmicky.
Ashy color tones are replacing cold grays. Farmhouse designs are being fused with modern elements for the perfect blend of homey and sophisticated vibes.
Gray and greige paints are moving toward white paint colors.
Open concepts are still the reigning floor plan design.
Kitchens
Quartz and Solid white counters are trending. We would like to formally take this time and say that by this time next year- we see concrete counters trending- but we shall see! Granite is still very popular but you must be careful choosing your granite or you'll risk dating your renovation. Granite is no longer the go to counter top. Quartz has taken the reign. Quartz comes in many different options. The most popular style to date is Calacatta Quartz.
White Cabinets with color blocking islands.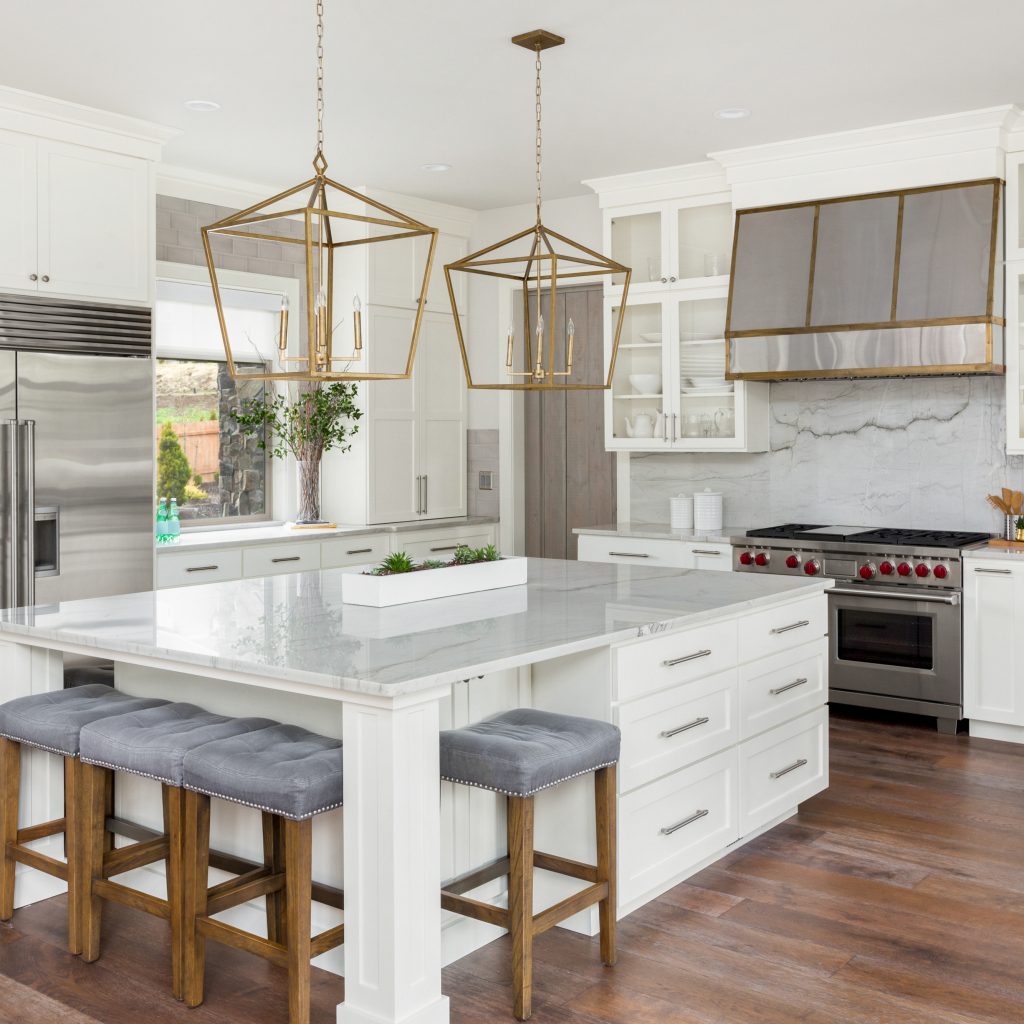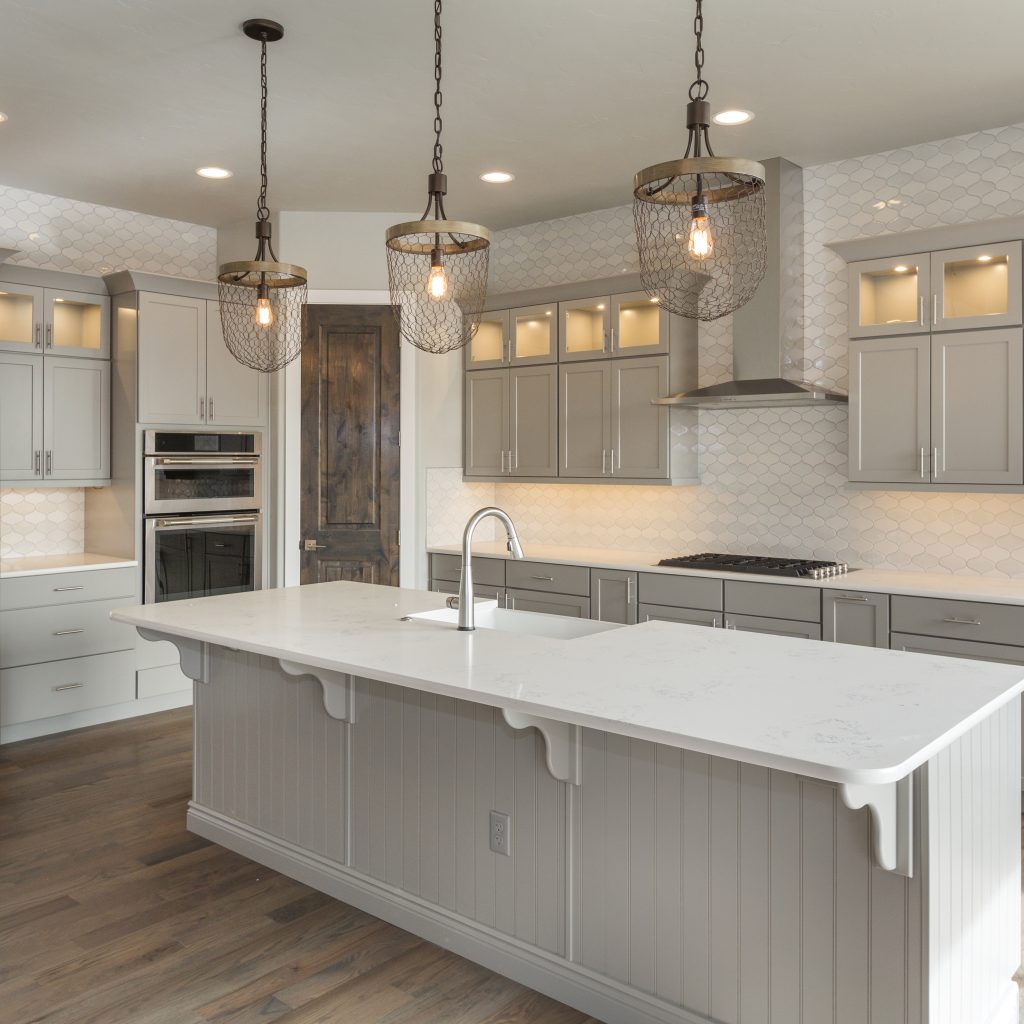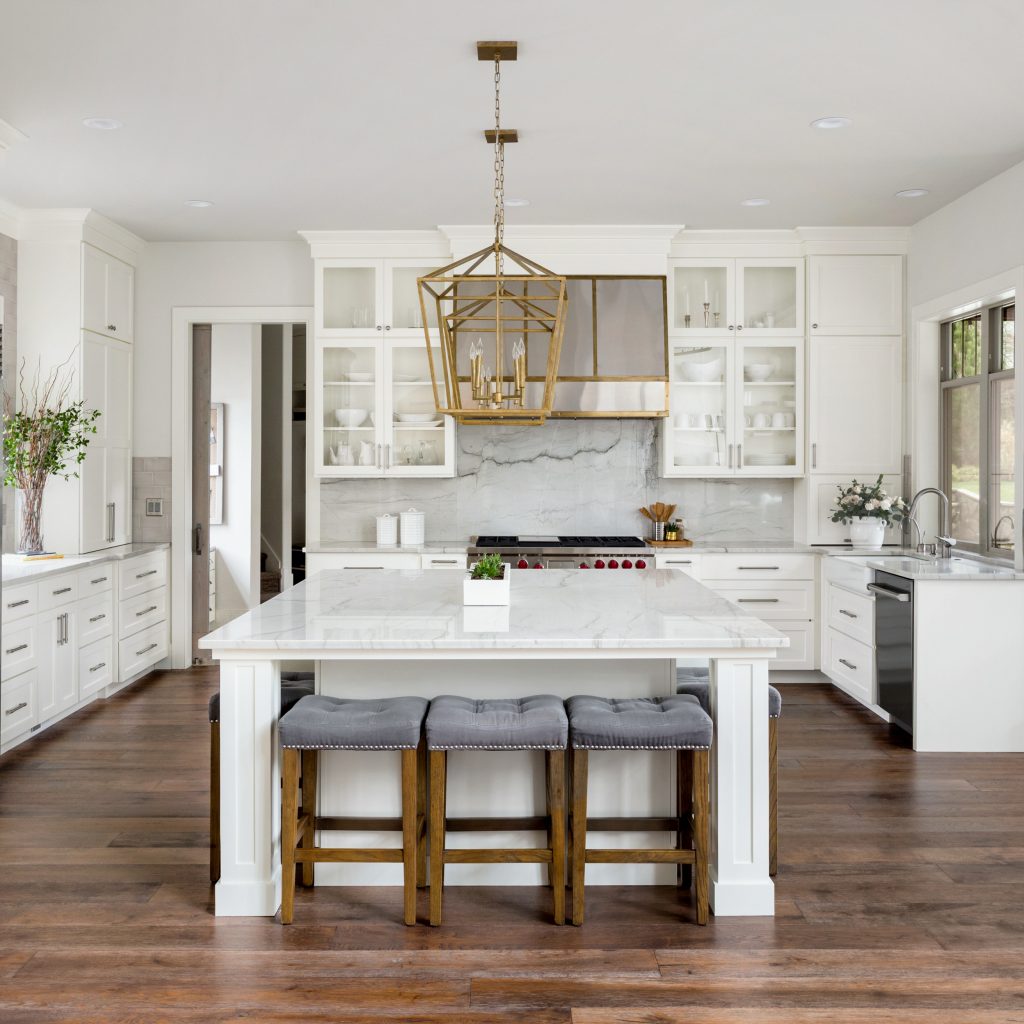 Hardwood is THE number one floor choice for homeowners throughout the US and Candada. Flooring trends are across a broad spectrum of light and dark. But cooler toned floors are topping the charts and those red and orange colored floors are a thing of the past. Wide plank(insert link), ashy colored beach tone floors are in more so than dark stained hardwood, but darker hardwood is still popular. We am seeing and we are installing so much ashy toned hardwood floors and they are simply gorgeous.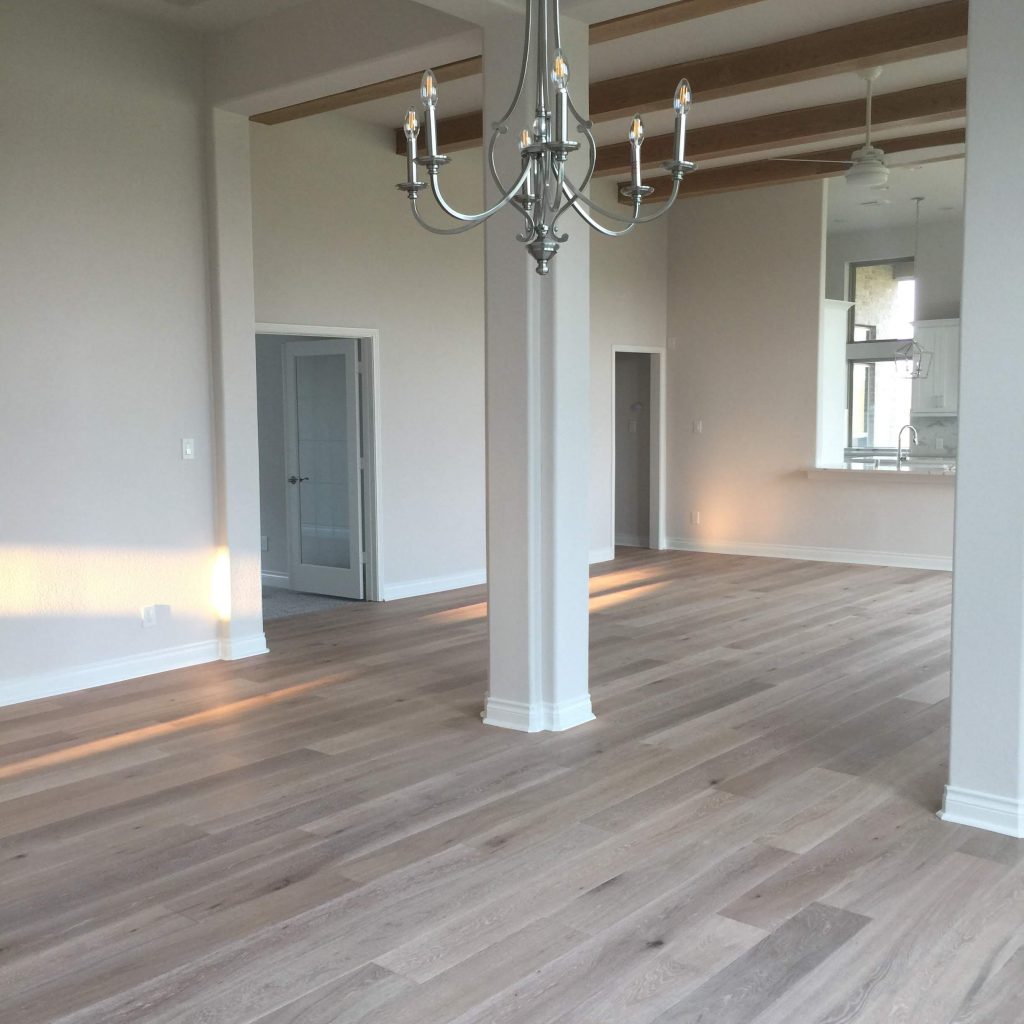 Ceiling Beams
Ceiling Beams are everywhere! While lots of exposed beams offer structural support, some are purely for decorative purposes. Ceiling beams come in a variety of options from rustic or modern/contemporary. Indicative of a traditional farmhouse, ceiling beams are now incorporated in a mix of design motifs. Check out historicflooring.com. They have some of the most beautiful ceiling beams.
Smart Homes
One design trend that will not be going out of style anytime soon is of the implantation of smart home gadgets. In fact, smart homes will only become smarter and technology will only become more advanced. Alexa can light up, heat up, cool down and even lock your doors, all by the asking of her to do so. Appliances have also become smart. Just last night I saw a commercial where you can sync your oven to Alexa and ask her to preheat it. This is seriously modern elements and exactly where I thought we would be in 2020, minus the flying cars-but that's next. Homes will become fused with technology. There are builder conferences which showcase many designs and ideas for smart homes.
Powder Room Pizazz
The Pros Home Builders and Construction wrote a blog last year summarizing the trends they were seeing, and they touch on the powder room and some of the bold décor themes they were seeing in this particular room of the home. I want to expand on that. Powder rooms typically consists of  sink and toilet. Usually is a smaller bathroom than your master and guest bath. This makes this area the perfect room to insert some bold textures, tiles, paint, and overall décor.
Herringbone and Chevron
These two installation patterns are so trendy, sophisticated and offers a classic design. Herringbone and Chevron never go out of style. In fact, if you want a timeless design element, herringbone and chevron are it. You can find these styles in some of the oldest government buildings and homes in America. I'm seeing herringbone and chevron patterns being installed in every area of the home-no room is off limits! It was once regarded as a high end installation for floors, herringbone and chevron is now offered and installed in different tile applications such as shower bodies, floors, and backsplashes.
Lighting Fixtures
Oversized hanging light fixtures
 are so popular. Not only does it give off excellent light- it often becomes a conversation piece.
Pendant lighting
 has always been popular for as long as I can remember. I gives wonderful ambient lighting without over brightening the space. I'm seeing so many clear glass exposing the bulb, globe light fixtures. But the number one trend I am seeing is geometric lantern pendant lights in all sizes.
Fixture color trends are black, silver/chrome, gold, brass, brushed bronze.
A lot of clients are opting for the wagon wheel chandelier style most often in a black finish with upright exposed bulbs. This is where the farmhouse element comes into play.
Light fixtures are fun to play with in the design world. They are easily replaced when the design tires or you just want something different.
Decorative Trim
Along with base moulding, shoe moulding and crown moulding, we have been installing some beautiful decorative trim in all types of patterns. This helps jazz up wall space. Most of the time we paint the trim the same color as the wall paint. This will allow the light to play off the trim which will have a textured effect.